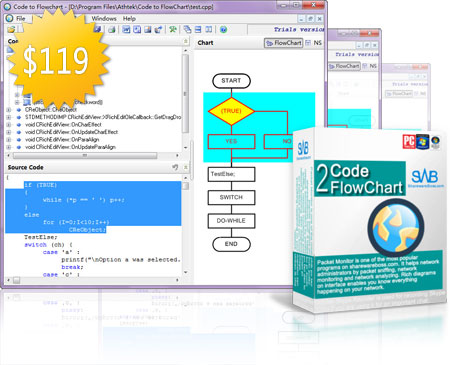 Code to FlowChart
Code to FlowChart 2.0 is an advanced source code to flowchart converter for software engineers and document writers. By using it, flowchart/NS chart can be automatically generated from source code, it makes the complex program structures more understandable. Code to FlowChart Converter supports C, C++, VC++, Pascal and Delphi.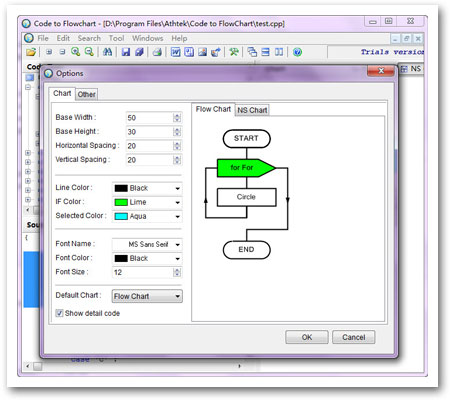 Source Code to Flow/NS chart
Code to Flow Chart Converter can generate a flowchart or NS chart according to the source code so that users can get familiar with the process of the program.
Export to Word/Visto /XML/SVG/BMP(Bitmap)
With Code to Flowchart, you can export the chart for later use, there are five formats available: Word/Visto/XML/SVG/BMP.
Project Overview
With Code to Flow Chart Converter, users can have easily access to get project overview, so that users can have a macro idea of the program and handle it better.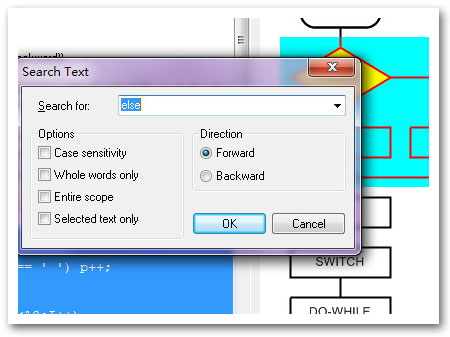 C/C++/VC++/Pascal/Delphi Code to Flowchart
Five popular programming languages can be converted to flowcharts or NS charts automatically, these are C/C++/VC++/Pascal/Delphi.
Automatically Create NS Charts/Flowcharts
There is no need for you to prepare anything since Code to Flowchart Converter helps you to create flowchart or NS charts all by itself.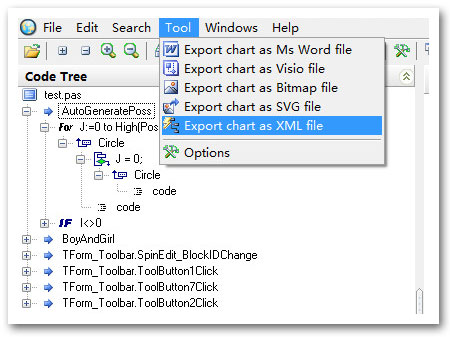 Browsing and Navigation
Code to Flowchart also provide users with browsing and navigation functions. These functions will facilitate the process of programming and offer a great help for both senior and junior programmers.
Auto Formatting for Easy Readability
With Code to FlowChart, source code can be formatted automatically. The formatted source code is organized in a clearer way, which enhances the readability of source code and help users understand it better.